CastKing Machinery Co. LTD - China's Professional clay sand molding research&development and manufacturing company, it has customers all over the country and overseas. CastKing has won the unanimous praise of customers with its advanced technology, exquisite craftsmanship and first-class service.CastKing has 7 models with automatic horizontal molding machine for 1000x1000, 850x750, 750x650, 700x600, 600x550, 600x500, 520x420, and vertical shooting sand double-position molding machine 700x600. It cover a wide range of areas, solve most of the foundry's styling problems, upgrade and renovate the casting companies, and solve the difficulties of foundry recruitment.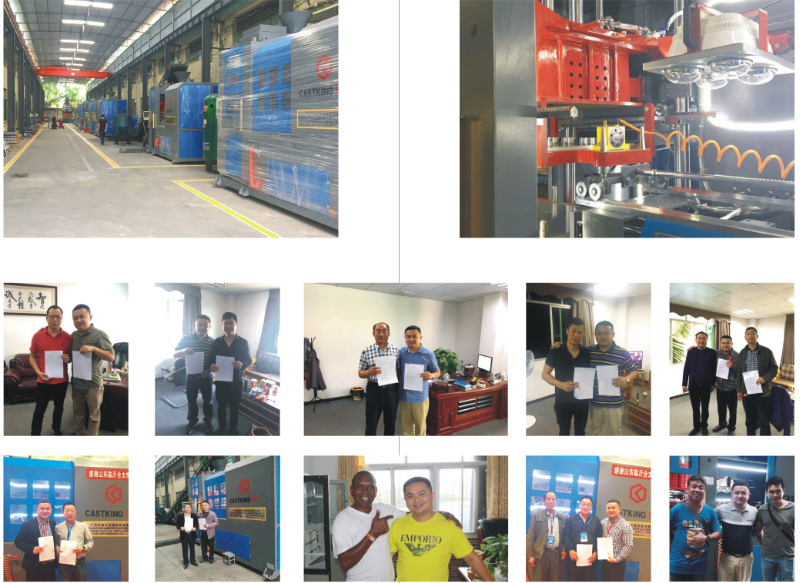 Since 2009, CastKing Machinery Co. LTD has invested heavily in the research and development of the core technology of automatic molding machines. Currently it owns the core technology of independent intellectual property rights in electronic control, structure, and hydraulic pressure, and has obtained 11 patents issued by the State Intellectual Property Office. At present, there are more than 100 employees in the company, including 16 technical R&D designers.

In the past 10 years, CastKing has been persistently pursuing, perseveringly and bravely creating the responsibility for high-quality national automatic molding machines. It has also turned to dreams of machine replacing human, and various cost-effective automatic molding machines have extensive use in foundries.

Automatic horizontal molding machine specifications: 1000x1000, 850x750, 750x650, 700x600, 600x550, 600x500, 520x420 Automatic vertical shooting sand double-position molding machine: 700x600